List Price:




$69.95

$55.96

20% Off


Discount:

-$13.99




Coupon code:

BEST-FTNI-WSNQ




---

Note: When you click "Buy Now" the coupon is added to your cart automatically


Shipping:

Send Register Code by E-mail (Free)
More shipping requirement, please see in order page

Buy Now

Free Trial






System Requirements:
Platforms: Windows XP (32 bit), Vista, Windows 7
Processor: 800 MHZ or above (1 GHZ is recommended)
RAM: 256MB RAM (512MB or above recommended)
File System Supported: FAT12 / FAT16 / FAT32 / NTFS / EXT3
File size: 7.81 MB

PartitionGuru is an excellent data recovery tool and a powerful disk & partition management program.

Using PartitionGuru you can:
Recover lost partitions
Recover lost files
Manage partitions, both MBR and GPT supported
Delete files permanently
Backup & Restore windows system and partitions
Create rescue bootable USB flash disk
Manage virtual disks of VMware, VirtualBox and Virtual PC
Backup & Restore partition table
Boot computer with DOS version PartitionGuru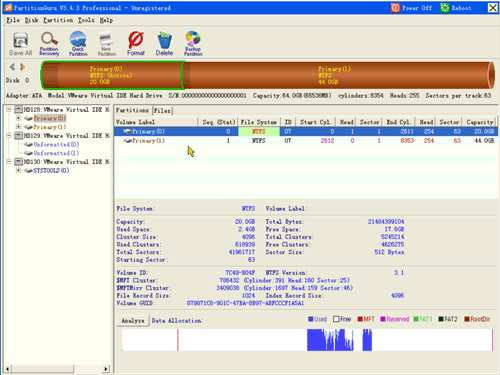 Sometime, manage partition under DOS mode is very easily and quickly than windows mode. PartitionGuru embed a DOS version program. You can reboot the computer to the DOS version of PartitionGuru.
From the main menu of PartitionGuru, just select "File" -> "Reboot to PartitionGuru DOS version", the computer will reboot to DOS mode and PartitionGuru DOS version will executed automatically.